Why is AromaTouch important?
The AromaTouch Technique promotes relaxation and stress relief to reduce physical and emotional stressors  by improving healthy autonomic functions affecting homeostasis.
What can AromaTouch help?
AromaTouch can help reduce physical stress, like inflammation, and emotional stress. AromaTouch  can be used as part of a health and wellness program either alone or as part of a holistic care plan with other wellness providers. (As always, check with your doctor if you have any of these conditions before beginning any AromaTouch or essential oil treatments.)
What is the AromaTouch Technique?
doTERRA's AromaTouch Technique is a clinical approach to applying essential oils along the energy meridians and visceral contact points of the back and feet to help balance the sympathetic and parasympathetic nervous systems of the body.  Developed by Dr. David Hill, a leading expert in integrative medicine and therapeutic applications of essential oils, the AromaTouch Technique improves well-being by reducing physical and emotional stressors and by supporting healthy autonomic function.  The technique is simple and intuitive and uses doTERRA's Certified Pure Therapeutic Grade (CTPG) essential oils for an unparalleled grounding experience for recipients.
What does the essential oil treatment involve?
The AromaTouch Technique includes four primary steps designed to gradually bring mental, physical and emotional balance.  Each step includes the application of two essential oils or essential oil blends specifically formulated to support healthy emotional and bodily functions for well-being.  Fractionated coconut oil is used as a carrier oil to help work the essential oils into your skin.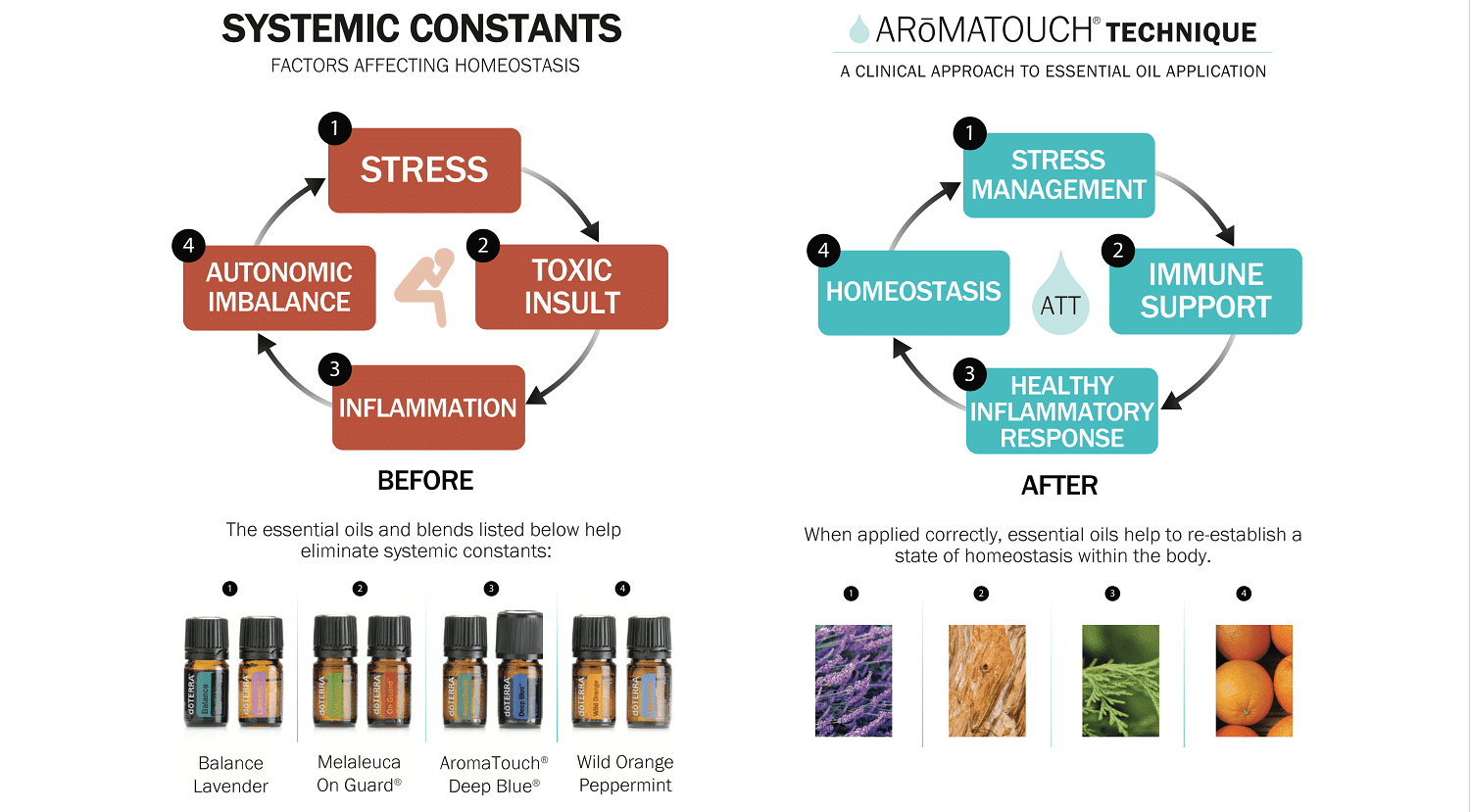 AromaTouch FAQs
When should I arrive for my AromaTouch Treatment?
About 10-15 minutes before your session begins to give yourself some time to settle.
How long is an AromaTouch Therapy session?
The oil application itself is 45 minutes.  However, we block an entire hour for the session, because we want you to relax a little after your session!  We also encourage you to get up slowly from your face-down position slowly to avoid dizziness.
What do I need to wear?
Wear comfortable clothing so that you do not feel constricted during the session.  The oils will be applied directly along the spine and feet as you lay face-down on a massage table.  So, you will need to be undressed from the waist up and your feet bare. There will be privacy for you to get undressed and get settled onto the massage table.  You will be covered with a sheet for warmth and privacy.
The oils will be worked into your skin from your lower back up to your head and onto the soles of your feet.  Please, have clean hair and clean feet for your session.
What if I have an open cut or sores on my feet?
No problem!  We can substitute the foot treatment by working the oils into your hands.
What if I prefer not to have my hands/feet/etc. not touched?
We understand.  Please inform the staff during your pre-session consultation, so that we may accommodate your preferences.
Conditions AromaTouch therapy technique has been shown to help include:
Strengthens and supports the immune system
Improves autonomic imbalance
What essential oils are used in AromaTouch?
Click the icons below to explore the eight essential oils that may be used in your AromaTouch therapy session.
dōTERRA Balance®
dōTERRA Balance® essential oil blend creates a sense of calmness and well-being. Starting AromaTouch with this oil creates a great initial bond between the giver and the receiver. Ingredients: Spruce, Ho Wood, Frankincense, Blue Tansy, Blue Chamomile, and Fractionated Coconut oil
dōTERRA On Guard®
dōTERRA On Guard® offers fragrant and effective cleansing properties. Because of these properties, it is used in the AromaTouch Technique. Ingredients: Wild Orange, Clove Bud, Cinnamon, Eucalyptus, and Rosemary
AromaTouch®
AromaTouch® essential oil blend combines the benefits of oils well known for calming and relaxing effects. The AromaTouch blend is used in the AromaTouch Technique because of its soothing sensation. Ingredients: Basil, Grapefruit, Cypress, Marjoram, Peppermint, and Lavender
Deep Blue®
Deep Blue® essential oil blend has an immediate tingling and warming effect. Because of this and its aromatic properties, it was chosen to be part of the AromaTouch Technique. Ingredients: Wintergreen, Camphor, Peppermint, Blue Tansy, German Chamomile, Helichrysm, and Osmanthus
Lavender
Lavender essential oil has been cherished for its unmistakable aroma and calming properties for thousands of years. Due to its soothing nature, it is used in the AromaTouch to promote relaxation. Ingredients: Lavender
Melaleuca
More commonly called, "tea tree," Melaleuca has 90 different compounds and limitless applications. Melaleuca is an essential part of the AromaTouch Technique for its cleansing effects.
Peppermint
Peppermint, a well-loved oil, provides a myriad of health benefits. Peppermint essential oil is used in the AromaTouch Technique for its invigorating and energy-promoting qualities. Ingredients: Peppermint 
Wild Orange
Cold pressed from the peel, Wild Orange essential oil releases an energizing, citrusy aroma. We use Wild Orange in the AromaTouch Technique because of its ability to energize and revitalize. Ingredients: Wild Orange